EYSA Navigation
EYSA Events
EYSA Sponsors
EYSA Affiliations
Oct 14, 2009

BIRMINGHAM BASH



This past weekend EYSA entered 4 teams in the Birmingham Bash and had a combined record of 11-3-1. The Puma 01 won the U-9 Gold Championship, The Lady Puma 00 was the Finalist in the U-10 Gold Division, losing to a Knoxville team 2-1 in overtime, and the Puma 00 won the U-10 Gold Championship

Congratulations to the players, coaches, and parents.





FREE LEE UNIVERSITY SOCCER CLINIC
APRIL 6th, 2009

EYSA would like to once again thank Coach Matt Yelton and his 2008 NAIA Women's National Champion team for providing this free clinic to our kids. What a great success it was even if it was so cold. We had over 100 kids, boys and girls ages ranging from 5 to 16, from all over the area. Please visit Summer Camps Page for more information about Coach Matt Yelton's Summer Camp. Below are some of the pictures from the clinic

(Mouse Over the Picture to Stop)


2008 ALABAMA STATE CHAMPION'S
EYSA tied for the most combined Fall 2008 Div II and Div III State Champion's in the entire state. Only two other clubs out of Huntsville were able to match EYSA's four State Champions. The 7 teams that entered the State Cups had a combined record of 14-5-1, with three teams going undefeated. Our teams played against some of the largest clubs in the state from Birmingham, Montgomery, Tuscaloosa, Huntsville, Madison, and more. EYSA continues to develop some of the strongest soccer players in the state. Congratulations to all the players and coaches for this accomplishment.
Nov 17th, 2008
U-16 GIRLS STATE CHAMPIONS
TORNADO 93



Congratulations to Kelsey Cain, Julia Ryle, Kendra Davis, Chloe Kennedy, Kelly Muratta, Morgan Turner, Ashleigh Manuel, Hillary Romero, Kendall Worman, Sharon Osterbind, Allie Curl, Lakken Wood, Brooke Ann Styke, and Hannah Dobbs. Coaches: Sam Cain and Britney Cain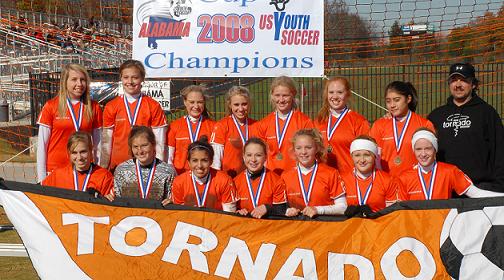 Nov 17th, 2008
U-9 GIRLS STATE CHAMPIONS
LADY PUMAS 00



Congratulations to Kylee Berndt, Logan Black, Cameron Bowley, Rachael Bowley, Allison Cohen, Jhamaya Cooper, Kinsleigh Hamrick, Grace McClellan, and Jordyn Waldron. Coaches: Rob Bowley and Mike McClellan


Nov 17th, 2008
U-9 BOYS STATE CHAMPIONS
PUMAS 00



Congratulations to Grayson Mead Davis, Will Dickson, Joshua Jones, Johnny Kilgo, Christian Mondragon, Cole Patton, David Rutledge, Andrew Smith, Ryan Sparks, and Ethan Whitcomb. Coaches: Bill Martin, Dennis Davis, and Dierick Sparks.


Nov 17th, 2008
U-10 GIRLS STATE CHAMPIONS
GO HAWKS



Congratulations to Savannah Abercrombie, Hayden Caldwell, Shamayne Cooper, Jessica Diggs, Megan Haller, Alexis Hamm, Jennah Moore, Lynden Phillips, Drew Rhea, Madison Watkins, and Audria Woods. Coaches: Bill Haller, Hugh Hammer, and Stephen Woods. Team Manager: Helene Haller.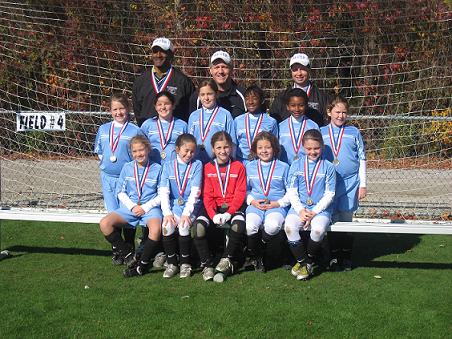 Copyright © by Etowah Youth Soccer Association All Right Reserved.
Published on: 2009-02-23 (16425 reads)
[ Go Back ]